Comme beaucoup de personnes, j'ai découvert At The Drive-in avec le cultissime Relationship Of Command et je vous laisse imaginer ma joie quand le groupe s'est reformé en 2016. Bref, j'attendais un peu ce nouvel album des texans comme le messie.
Ceux qui étaient au Trianon en mars 2016 le savent déjà : ATDI n'a pas perdu de son énergie et de sa fureur sur scène. Et in•ter a•li•a le confirme, le groupe n'est pas revenu pour enfiler des perles mais pour envoyer du bon gros son.
L'album est énorme, c'est une véritable tornade musicale qui s'abat sur l'auditeur. Et de ce chaos se détachent quelques petits bijoux comme Incurably Innocent, titre totalement punk et rageur qui va à deux cent à l'heure, ou encore Call Broken Arrow et son refrain totalement entêtant. Le titre emblématique de l'album est incontestablement Governed by Contagions, morceau bien vénère qui dépote.
ATDI sait aussi calmer le jeu avec le titre Ghost-Tape No.9, petit moment d'accalmie dans la tempête avant de nous achever avec Hostage Stamps.
in•ter a•li•a est une réussite, on a l'impression de retrouver At The Drive-in là où on l'avait laissé en 2001. Et un peu de rage et de fureur dans ce monde de brutes, ça fait toujours du bien !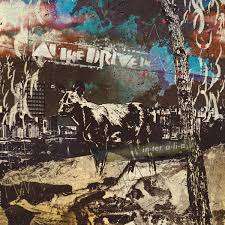 Tracklist :
No Wolf Like the Present
Continuum
Tilting at the Univendor
Governed by Contagions
Pendulum in a Peasant Dress
Incurably Innocent
Call Broken Arrow
Holtzclaw
Torrentially Cutshaw
Ghost-Tape No.9
Hostage Stamps
Site officiel de At The Drive-in


Facebook de At The Drive-in


Twitter de At The Drive-in


Écouter At The Drive-in sur Spotify


Instagram de At The Drive-in


At The Drive-in sur YouTube