Publié le 07 janvier 2010 à 22:06 par Simo Commentaires fermés

sur Julia Kent en live à Paris

#Julia Kent
Julia Kent (violoncelle/arrangements), cette canadienne née à Vancouver est plus connue pour sa longue participation dans le groupe d'Antony Hegarty: Antony and Johnsons, mais a aussi collaboré avec Devendra Banhart, Rufus Wainwright, Angels of Light, Larsen et plein d'autres.
Une des Johnsons en concert exceptionnel à Paris, c'est un événement à ne pas rater. De plus, seule sur scène avec son instrument favori, Julia Kent fait naitre et soulève avec ses coups d'archet les mélancolies les plus profondes.
En première partie, nous retrouverons Isidore Gyr, groupe français conduit par Gonzague Octaville
Désinvolt, fidèle aux bons concerts, sera au rendez-vous. Bientôt un live report de l'événement.
Infos pratiques Julia Kent (Antony and The Johnsons) :
Date : Vendredi 22 janvier 2010
Horaires : 20H30
Lieu : Le Bus Palladium
Adresse : 6, rue fontaine
Ville : Paris 75009
Métro : Saint Georges – Blanche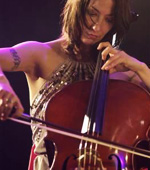 Contact / Plus d'infos sur Julia Kent (Antony and The Johnsons) :
Téléphone : 01 42 00 96 75
Mail : vulturesmusick@free.fr
Site : http://www.myspace.com/vulturesmusick
Site de Julia Kent : http://www.juliakent.com/
A suivre !