Publié le 07 avril 2010 à 09:55 par Commentaires fermés

sur Solidays : la programmation
Alors que les Solidays avaient dévoilés il y a 15 jours les 10 premiers noms des artistes qui seraient présents à Longchamp du 25 au 27 juin prochain, c'est aujourd'hui, que la suite de la programmation vient d'être annoncée.
Aux cotés de Archive, -M-, Wax Tailor, Kasabian, Olivia Ruiz, Ghinzu, Izia, Vanessa Paradis, Hocus Pocus et des BB Brunes, nous retrouverons :
Jacques Higelin, Diam's, Toots & The Maytals, Hindi Zahra, Revolver, Winston McAnuff, Carmen Maria Vega, Shakaponk, The Inspector Cluzo, Babylon Circus, Gush, Oldelaf, Souljazz Orchestra, Local Natives, Java, Jil is Lucky, Tumi & The Volume, Oxmo Puccino, Ariane Moffatt, Beat Torrent, Chinese Man, Che Sudaka, Smod, Missill, CongopunQ, Meï Teï Shô, Scratch Bandits Crew, Curry & Coco, Jamaïca, Bang Bang Eche, Nasser, Delphic, Phoebe Killdeer & The Short Straws, Fanga, NERD, Rodrigo y Gabriela, Nneka, Crookers, Wolfmother, General Elektriks, Féfé, Skip the Use, Staff Benda Bilili, Jeff Lang et Brother Ali.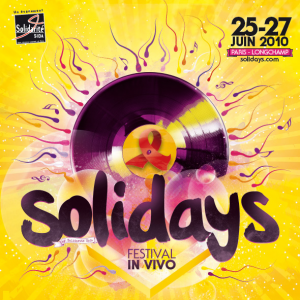 Du lourd, du très lourd, et pourtant, ce n'est pas tout puisque le reste de la programmation sera dévoilée le 15 avril !