Les deux compères de The Dukes, aka Shanka, à la guitare et au chant, et Greg Jacks, à la batterie, sont de retour avec un deuxième album Smoke Against The Beat. Ce nouvel opus est dans la droite ligne de son grand frère, Victory sorti en 2011 : du rock multivitaminé.
[youtube]https://www.youtube.com/watch?v=kDHFb2czEzs[/youtube]
L'album commence tout « en douceur » avec Just In Case avant de passer aux choses sérieuses, c'est-à-dire au rock indie qui voyage entre pop et punk rock. The Dukes envoie du lourd, c'est rageux (Smoke Against The Beat), énergique (The Grey People) et parfois complétement barré (Alive). Le groupe fait aussi dans la finesse avec les jolies mélodies de Daisy's Eyes. C'est tout ce que l'on attend d'un bon groupe de rock !
The Dukes fait plus que nous proposer un nouvel album. C'est tout un univers « Art'N'Roll » que le groupe a développé autour de Smoke Against The Beat avec un artwork réalisé par Shanka, très travaillé, ou encore une scénographie élaborée. Et bien d'autres choses plus artistiques comme la création de personnages, dont Smoki est le chef de file, ou la collaboration avec des dessinateurs. Je vous encourage fortement à aller découvrir tout ça, et bien plus encore, sur le site officiel du groupe.
[youtube]https://www.youtube.com/watch?v=SPKP3Rj-BCo[/youtube]
Smoke Against The Beat a tout pour plaire. C'est carré, propre et sans bavure. C'est tout ce qu'on attend d'un bon album de rock : des grosses guitares et des bonnes compos.
Tracklist :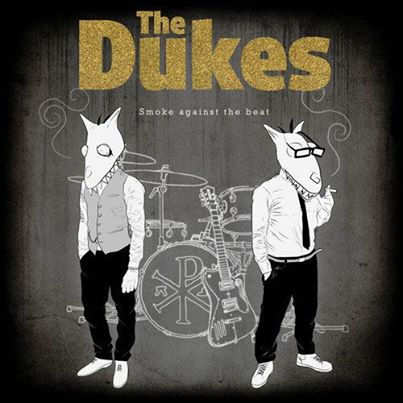 Just In Case
Smoke Against The Beat
Daisy's Eyes
Alright
Black Hole Love
Gold Digger
The Great Escape
Alive
The Tyrant
Don't Die A Copy
The Grey People
Genius

Site officiel de The Dukes


Facebook de The Dukes


Twitter de The Dukes


The Dukes sur YouTube