Alerte talent : Connie Constance, jeune artiste britannique de vingt ans, danseuse de formation. Son premier EP In the Grass rassemble trois pépites (un peu frustrant, avouons-le) entre soul, R'n'B… et un petit je-ne-sais-quoi de magique !
Le premier extrait Stars nous embarque dans un monde imaginaire, hors du temps et du tumulte de la vie londonienne. Le clip, aux couleurs douces, retranscrit parfaitement cette atmosphère planante. Comme dans un rêve ; un rêve où l'on danse avec une étrange créature poilue à cornes (un Chewbacca violet et permanenté, on aura tout vu !).
[youtube]https://www.youtube.com/watch?v=BI3MS3TnYAs[/youtube]
Encore sous le charme de ce premier extrait, voici qu'on tombe amoureux d'un nouveau titre : Euphoric, une chanson d'amour au style épuré qui s'ouvre sur de jolies petites notes – façon conte de fée. Sur ce titre, la voix de Connie Constance, par moment rauque puis délicate, se dévoile un peu plus. Prometteur. Une invitation au voyage (« to a village by the sea ») qu'on accepte sans une once d'hésitation. L'ensemble est aérien et poétique.
Dans une interview (Wonderland magazine), elle dévoilait ses goûts musicaux (so british) : Amy Winehouse, The Libertines (avec qui elle rêverait de collaborer !), Oasis, Arctic Monkeys… Dans sa playlist, Leon Bridges, parmi tant d'autres. Autant d'influences qui alimentent son univers intérieur. Qu'en ressortira-t-il ? On parie sur un premier album féérique.
Welcome to Connie's world !
Tracklist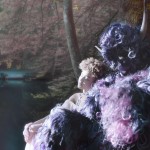 Stars
Euphoric
Kingdom

Facebook de Connie Constance


Twitter de Connie Constance


Soundcloud de Connie Constance


Instagram de Connie Constance