Publié le 17 janvier 2010 à 21:01 par 2 #Travis
Il y a quelques mois, Fran Healy et Andy Dunlop, respectivement chanteur-guitariste et guitariste de Travis, étaient en tournée acoustique. De cette série de concerts sur les routes américaines, ils vont publier un album live intitulé A Chronological Acoustical Journey Through The Travis Back Catalogue Live.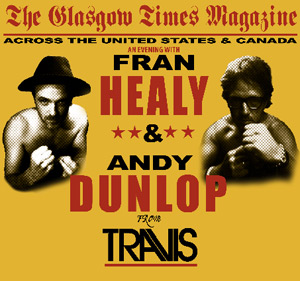 L'album sera mis en vente dès le 19 janvier. En attendant, il est en écoute sur le MySpace du groupe.
La tracklist annoncée est la suivante :
20
Turn
All I Want To Do Is Rock
Falling Down
Last Laugh Of The Laughter
Why Does It Always Rain On Me
Flowers In The Window
Sing
Side
Love Will Come Through
My Eyes
Before You Were Young
Holiday
Attention, la version CD sortira uniquement aux Etats-Unis. En France, il faudra se contenter de la version digitale (qui apparement devrait n'être disponible que via Amazon).