Noah and the Whale est un groupe anglais indie folk originaire de Londres créé en 2006. Le groupe est composé de Charlie Fink (chant, guitare, ukulélé), Tom Hobden (violon), Matt « Urby Whale » Owens (basse), Fred Abbott (guitare) et Michael Petulla (batterie). Le nom de groupe est un drôle de mélange entre le nom du réalisateur Noah Baumbach et celui de son film The Squid and the Whale.
Last Night on Earth est leur 3ème album studio.
On est dans le domaine de la pop vaporeuse et aérienne, aux mélodies léchées et relaxantes.
La voix de Charlie Fink est captivante et enveloppante.
L'écoute, franchement déroutante la première fois, s'avère formidable avec le temps : porté par une demi-douzaine de hits potentiels, Last Night on Earth est aux antipodes de l'usine à gaz pompeuse et déjà vue dans ce style de musique.
Ces Anglais possèdent un songwriting redoutable.
[youtube]http://www.youtube.com/watch?v=fbGUEelmzxo[/youtube]
Last Night on Earth est une très belle pièce, aux accents positifs, ça fait du bien par les temps qui courent.
Tracklist de Last Night on Earth :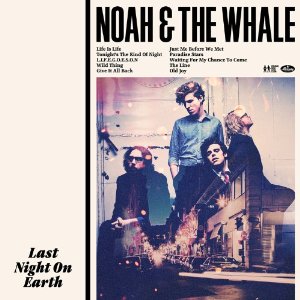 Life is Life
Tonight's The Kind Of Night
L.I.F.E.G.O.E.S.O.N.
Wild Thing
Give It All Back
Just Before We Met
Paradise Stars
Waiting For My Chance To Come
The Line
Old Joy